Welcome to Acudata
Electronic Manufacturer's Representative
Founded in 1981, Acudata is a manufacturer's representative with five strategically-located sales offices servicing an extensive customer base throughout Texas, Oklahoma, Arkansas, Louisiana, and Kansas. Our company specializes in providing innovative technology and products to our military, commercial and industrial customers. Acudata has a proven track record with over three decades of experience working with a broad group of customers, ranging from assisting upper management and engineers at large OEM's and industrialized facilities to supporting the small startup company. Learn More
Featured Products
Fluke 438-II Power Quality and Motor Analyzer
Fluke TiX560 Infrared Camera
Fluke Ti450 Infrared Camera
Fluke TiS Infrared Camera Scanner

Fluke Performance Series

TiS10, TiS20, TiS40, TiS45, TiS50, TiS55, TiS60, TiS65, TiS75
For technicians who need quick, accurate thermal imaging in a rugged body. Get up to 320x240 resolution. Fluke's advanced diagnosis and reporting tools are included.

MIL-STD-1553 Protocol

Precision ac voltage and current measurements have never been this easy

The 5790B AC Measurement Standard is a multi-purpose ac measurement and transfer standard designed for the most demanding calibration applications.


Master clock + GPS aided INS in a single box
Accurate timing, position and attitude reduces SWaP for ISR applications

64-channel, 4-frequency, GPS/GNSS simulator
The most affordable, powerful and easy-to-use simulator just got more convenient with upgradeability to any GNSS signal
Product Videos
View our cultivated list of product videos. Learn more about the best products for your industry.
Go to Videos...
What's New
CHASSIS PLANS a leader in rugged servers for the industrial and military market now has a 5 year standard warranty for all servers!
NEW PRODUCT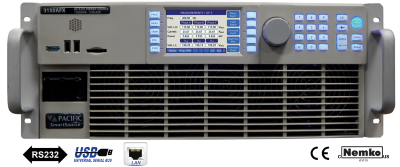 AC and DC Power Source Re-Imagined!

The AFX Series is a family of high power, single, split and three phase, AC, DC and AC+DC output capable Power Sources. Available models range from 9 kVA to 60 kVA. Using a modern user interface for ease of use, the AFX Series is cost effective and fully programmable for both basic frequency conversion and advanced AC power line or DC power disturbance test applications.